CARME in ASSOS
1-4 October 2011
The first International Workshop on on Correspondence Analysis and Related Methods (CARME) will take place in Assos, Turkey, from Saturday 1 October to Tuesday 4 October, 2011.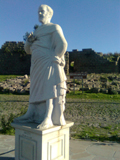 Assos (Turkish name: Behramkale) is on the northern Aegean coast of Turkey, directly opposite the Greek island of Lesbos. It is historically associated with Aristotle, who lived there for three years (346-344 BC), was married there, and became the leader of a group of philosophers and scientists who started to formulate the classification of plants, animals and insects.
The meeting is an offshoot of the quadriennial CARME conferences, the sixth of which took place in Rennes, France, in February 2011. Also included are excursions to local places of cultural and archaeological interest.